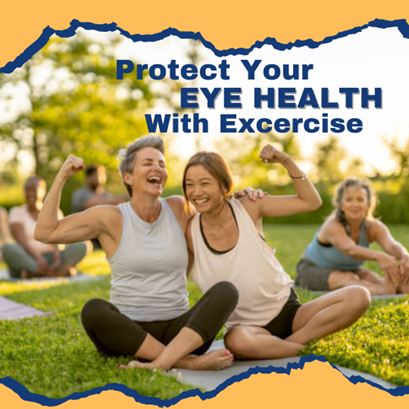 Did you know that physically active people appear to have a 73 percent lower risk of developing glaucoma? According to the American Academy of Ophthalmology, people who engage in moderate to vigorous physical activity may be able to lower their risk of glaucoma significantly. Researchers reported a 73 percent decline in the risk of developing the disease among the physically active study participants compared to those who were the least active.
Glaucoma is one of the leading causes of blindness in the United States. It is most common in people over 40. Several recent studies show that lifestyle factors can influence eye pressure.
The researchers analyzed data from the National Health and Nutrition Examination Survey to examine the correlation between exercise intensity and glaucoma. This large study tracked adults' health and nutritional status in the United States since the 1960s. They defined moderate to vigorous activity in walking speed and the number of steps taken per minute as measured by a pedometer. Taking 7,000 steps daily, every day of the week, is equivalent to 30 minutes a day of moderate-to-vigorous physical activity at least five days a week. The researchers found that for each 10-unit increase in walking speed and number of steps taken per minute, glaucoma risk decreased by 6 percent. For each 10-minute increase in moderate-to-vigorous activity per week, glaucoma risk fell 25 percent.
In conclusion, the research studies determined that it is not only the act of exercising that may be associated with decreased glaucoma risk, but that people who exercise at a higher speed and have more steps with walking or running. This healthy activity further decreases the glaucoma risk compared to people who exercise at lower speeds with fewer steps.
Adopt a physical activity routine to protect your eyesight with two important choices:
Make time in your schedule to exercise regularly and commit to working out 3 to 5 times per week.
Schedule your eye exams according to your eye doctor's guidance.
Keep your eyes on the prize where regular exercise slims the waistline, lifts your mood, and wards off eye damage. An overall win-win for your overall health!
Get Out There, Have Fun, and Get Active!

References: American Academy of Ophthalmology, American Optometric Association, American Heart Association, National Institutes of Health, and the National Health and Nutrition Examination Survey. This blog provides information and discussion about eye health and related subjects. The content provided within this blog and any linked materials are not intended and should not be considered medical advice. If the reader or any person has a medical concern, they should consult with an appropriately licensed physician.
---